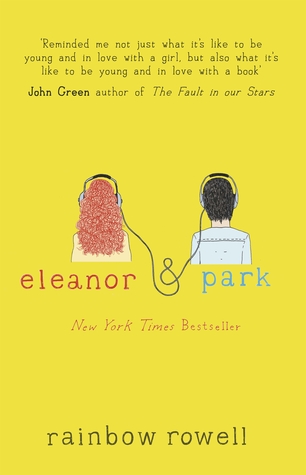 My rating.
Review.
"She never looked nice. She looked like art, and art wasn't supposed to look nice; it was supposed to make you feel something."
Two misfits.
One extraordinary love.
This book. I don't know what to say.
Even though I am writing this review days after finishing the book, it still gets me emotional. And only Rainbow Rowell's books can do that. I never expected this simple story of two strangers to affect like this. I mean I don't have any words for this unusual book and its characters.
Eleanor & Park doesn't talk to each other, and after reading this book you won't find it odd because their whole relationship starts with them sitting there on the bus and Eleanor trying to read Park's comics and him trying to share it with her and their songs playlists exchange and......well, I can go on forever because this book is just....too adorable, and sad :( Those cute exchange and small gestures still manages to make me smile! *Please don't pay attention to the number of 'and' I have used in this paragraph* lol

"Holding Eleanor's hand was like holding a butterfly. Or a heartbeat. Like holding something complete, and completely alive."