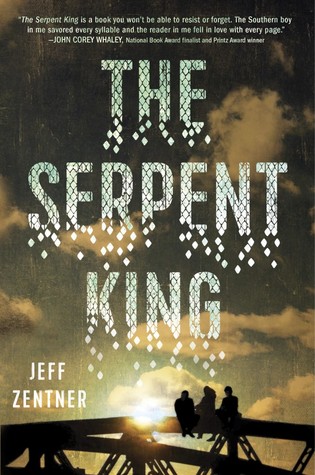 My rating.
Review.
People are born and die. Seasons change. Rivers flow to the sea. Earth circles the sun and the moon circles Earth. Everything whirring and spinning toward something. And I get to be part of it for a little while, the way I get to watch a train for a minute or two, and then it's gone."

I can't remember the last time a book had left such a strong impression on me. This is, no doubt, one of the best books I've read this year, and I will also go as far as to say that this has become my all time favorite book. Jeff Zentner's debut novel, The Serpent King, deserves all the praises and hype it has been receiving. This story, its writing, is so powerful that from the very first page, it makes you feel like you are there, witnessing everything happening to the main characters, crying and laughing with them, getting your heart broken (if I might add, a lot of times), and then leaving you at the end with a smile on your face.
The Serpent King is a captivating tale of three friends, who are different from each other in every way possible, but still manages to form a strong and beautiful friendship. The story is being told from each character's perspective, and each one of them taking this story forward with their own. It is also connected to characters' past, which I believe is the main focus of the story as it has huge impact on their lives, but I also like how much character driven the story is. There is a lot of character development throughout the book, and that is what I loved the most while reading it.
Dilliard Early
comes from a very religious family. His father is in jail, which her mother things that he is responsible for it. He is a grandson of the Serpent King, for which he gets bullied in class and has to endure hateful glares and comments from the people of that town.
Lydia
is a very ambitious girl. She is very popular on internet through her fashion blog, and she has always wanted to leave her town to go achieve her dreams.
"How is it every time we're talking about the real world, you manage to bring up fantasy, and every time we're talking about fantasy, you manage to bring up the real world?

Travis shrugged. "My fantasies are more interesting than the real world and machines and tools are more interesting than you guys' fantasies."
Travis
is the most quite person of the group and is always lost in his fantasy books. He is usually quite, mostly because his friends never gets the things he does or the books he read. I had gotten attached to all the characters, but the chapters of Travis, especially with his dad, always made me sad. I just love how brave he is and more than that, I just adore him.
It's incredible how the lives of these three characters intertwines and they end up being such close friends. I always love books on friendships, and even though this book has a lot many more important things in it, I just love it for its simplicity and for focusing enough on their friendship to make me fall in love with each of them.
I love how the book is written. It's engrossing and is a kind of book which you'll just want to keep on reading. And how could I not like it? There there were so many beautiful quotes that I wanted to highlight each one of them. Just read this:
"If you're going to live, you might as well do painful, brave, and beautiful things."
"That wouldn't be a bad way to die...giving off light for millions of years after you're gone."
"We live in a series of moments and seasons and sense memories, strung end to end to form a sort of story."
I loved this book and would recommend it to everyone. If you like character driven stories, or even if you are looking for a good and memorable story, then this is your book. Just go read this book guys!