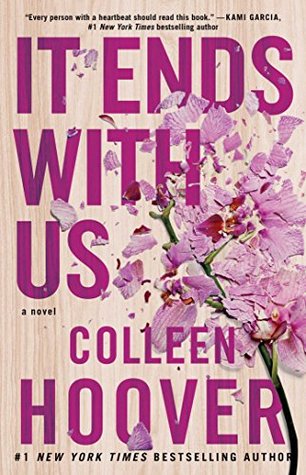 My rating.
Review.
"There is no such thing as bad people. We're all just people who sometimes do bad things."
Colleen Hoover did it again. I have no words to describe my feelings towards this book. My mind is still rethinking all those scenes and getting emotional all over again. If you are even a little bit curious about this book, don't think and just
read it
. This book needs to be read by everyone.
This is probably the most raw and emotional story Colleen Hoover has written. Colleen Hoover will always be my favorite author, and this book is just another proof of why I love her books so much. This book is unlike any of her previous books, the story is so real and filled with so many emotions that it will leave you with all the feels. It's crazy how a book makes you feel so many things. And it's just not with this book, almost all the books by her has been emotional and dealt with serious issues. This book will make you laugh but will also break your heart a lot of times, but trust me, this book is a.m.a.z.i.n.g!
Let's start with some beautiful things which happen in this book:
Teenage love
, the way mother/daughter relationship is presented, complexity of characters, Lily writing letters to Ellen Degeneres (which might sound odd but was one of the best and probably my favorite part of the story), flowers,
naked truths
(which hurt way too much), wonderful side characters, Alyssa( she could be my best friend any time),
the way love is shown(not beautiful, not ugly, just...love)
, that heart, and one last thing.....
just keep swimming.
Okay, so I included almost everything in the above paragraph because even though this book was sad and made me cry many times, everything was just too beautiful in this book - the childhood love which I adored, Lily's passion towards flowers and nature, the people Lily fell in love with, and also the people Lily hated. I felt everything with her. All the happiness, love, and even hatred.
It Ends With Us deals with serious and very important issue, and made me question a lot things people think of others and how different it might be. It showed how some actions by our parents can stay with us forever and leave a very strong impression. Lily, Atlas, and Ryle, the main characters in this book went through a lot as a child, and while some grew up and were able to let go of their past, some were still stuck to it which affected everyone around them and did things they would regret forever. And for that, there's this perfect quote from the book, which doesn't justify the things the characters did, but makes you look at it from a different angle.
"There is no such thing as bad people. We're all just people who sometimes do bad things."


"Maybe love isn't something that comes full circle. It just ebbs and flows, in and out, just like the people in our lives. Just because we didn't end up on the same wave, doesn't mean we aren't apart of the same ocean."
The writing is perfect. There are so many lines I want to quote because even though this book is emotional, it gives you the best and inspiring quotes. The writing style is also different from other books by her. And the meaning of the title, it ends with us, still makes me emotional.
I haven't discussed much about the plot, and it would be best if you read the book with knowing very little about it because this is the kind of book that you just have to experience. And I would recommend this book to every one. Go.and.read.this.book. I love this book so much.
Also, I came across the heart which is described in this book, and t.he pic was share by CoHo which is just as beautiful and perfect as I had imagined. And don't forget to read Author's Note at the end